To enable Rotary Club of Wichita member to always put "Service Above Self", the Wichita Rotary Charitable Foundation (WRCF) was created in 1986.
New Wichita Rotary members are asked to contribute $100 to the Fund, and all members are encouraged to donate regularly. The response of Club members has been so enthusiastic that donations to WRCF have taken the place of major fundraisers.
Reading Is Fundamental (RIF)
"To awaken hope in the hearts of the nation's children, to have a hand in creating responsible men and women for the future—surely this is the brightest gift we can offer our country." —Margaret C. McNamara, RIF Founder
According to the Reading Is Fundamental (RIF) organization, nearly two-thirds of low-income families in the United States own no books.
RIF is our nation's largest nonprofit children's literacy organization. The Rotary Club of Wichita is a long-time RIF partner. Through RIF we prepare and motivate children to read by purchasing and delivering books to those children and families who need them the most. This year our club will donate approximately 24,000 books to elementary school-age children in 25 USD 259 Title I schools and 14 Child Start schools. Volunteers visit the schools two times a year (once each in the spring and fall) to read to the children and deliver the books which the children have personally selected.
The mission embraced by RIF is to motivate children to have a lifelong, life-changing love of reading. The volunteers provide inspiration and impart an appreciation for literacy when they visit the classroom aspiring to ignite a hunger for knowledge and a passion for learning.
The Rotary Club of Wichita participates in the USA Dictionary Project annually, which allows us to provide a hardback Scholastic Dictionary to each third grader in our local Title I schools in School District 259. This year we will distribute more than 2,700 dictionaries.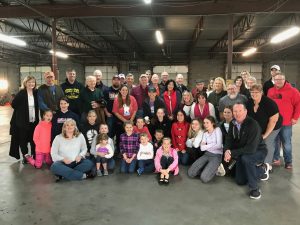 The children are thrilled to receive their very own personal dictionary. For many, this is the first and only book they have to call their own. The dictionaries serve as teaching aids for the school. With individual dictionaries, teachers now have greater opportunities for teaching word mechanics.
Volunteers enjoy the interaction with the third graders. Once they have distributed to a classroom they want to participate every year.
Our Rotary Wraps project purchases and distributes coats, scarves and gloves to students of USD 259 Title I Schools.
These projects receive funding from Wichita Rotary Charitable Foundation and the club provides volunteers.
Storytime Village - Kansas Literacy Festival
The Kansas Literacy Festival is a community event where reading and writing are celebrated.  In partnership with WSU, area schools, bookstores, state-wide organizations, and community partners, the festival will ignite excitement in Kansas students to read and write.  The in-person festival was held at Fairmount Park. WRCF funding was used to purchase books given away that day.  Volunteers were involved in the festival's Storytime Hour, book distributions, and the Rotary Club Booth.
Boy Scouts of America - Awareness Camp 2022
Awareness camp is a free three-day adventure that provides youth, who have limited exposure to the camp experience, with an opportunity to have an adventure in the outdoors. WRCF Funding will provide scholarships to the camps, volunteers with helping run the program's events and work alongside "Den Leaders" as well as assist with set-up and teardown.
Junior Achievement of Kansas
Junior Achievement's mission is to inspire and prepare young people in grades K through 12 to own their economic success. Junior Achievement provides age-appropriate, hands-on financial literacy, entrepreneurship, and work readiness skills. Club members will teach in our Wichita classroom in five to six 30-minute programs.
WRCF funding will be used to give scholarships to Salvation Army summer camps.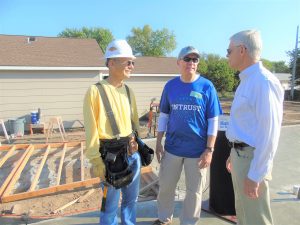 Habitat for Humanity is founded on the conviction that every man, woman, and child should have a decent, safe, and affordable place to live. According to Habitat for Humanity International, in the United States alone, 95 million people have housing problems, including overcrowding, poor quality shelter, and homelessness.
The Rotary Club of Wichita partners with the local Habitat organization to fund and actively participate in the construction of a Habitat house every other year for a family or individuals in need. Volunteers donate their time over a two-week period which includes all phases of the construction process. The Wichita Rotary Charitable Fund donates annually to ensure a house is built every other year.
Multiple build days will be scheduled to accommodate all types of abilities and interests. Want to swing a hammer and help frame a house – we do that. Want to paint the interior of a house – we do that too.
WRCF funding will be used to purchase and install a commercial freezer into Humankind's "The Inn". This is a 24-hour full-service facility providing means, clothing, and other essentials to Wichita's most vulnerable population. The commercial freezer will allow Humankind to expand its offerings as well as lower operating costs by purchasing food in bulk. Volunteer opportunities will include time at the Men's and Women's clothes closets as well as Operation Holiday.